I don't normally talk about hollywood news, but some of this is just too good to pass up. Plus, I just spent 12 hours at school and seriously need to undwind.

AND I QUOTE:

I know that my job is to... (dramatic-pause)

To have somebody else enter my body....

And whatever that truth is....I'm the vehicle for that."

Okaaayyy, Charlize.
YA HEARD?:
I wanted to do something where I could step outa' mah box.
I didn't wanna do anything that was so close to Bow-Wow
To when people see it, it's like 'Oh, that's Bow Wow'.
I wanted people to see it and be like, 'Oh That's not Bow-Wow.'"

Yep, you guessed it, that's Bow Wow. And he's talking about his new roll in Roll Bounce.
OUT WITH THE OLD AND IN WITH THE NEW:
Jamie-Lynn and A.J DiScala call it quits. :( Awwww.....

While Demi and her Child Groom make it official! YAY!
Demi Moore-Kutcher
? That sounds like love to me! :)
THIS JUST IN! SHOCKING NEWS!
Kate Moss does.... DRUGS!? Say What!?!?

Didn't see it coming. Hopefully this'll be a wake up call to her and the rest of her party girls.
LAST BUT NOT LEAST:
And you thought they couldn't get any worse. :)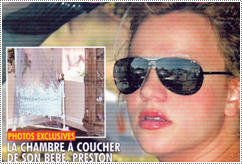 Britney?
K-Fed?
You have truly out-trashed yourselves. :)